Growing concern about groundwater, which today is perceived as a strategic resource, means that we must take steps to safeguard the physico-chemical characteristics of our groundwater and act to restore it to its "original" condition when it is contaminated.
Groundwater treatment poses several unique problems, which can be traced back to:
medium-to-high extraction rates, generally of the order of dozens of cubic metres per hour;
relatively low contaminant concentrations;
the broad spectrum of contaminants present;
extremely restrictive acceptability limits for treated water;
the need to operate continuously, 24 hours a day, 7 days a week.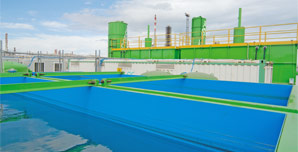 Confronted with these particularities, Riccoboni has designed and built a series of dedicated treatment systems characterised by the fact that:
they are highly modular, which allows systems to be adjusted to suit both specific extraction rates for each site and the range of contaminants detected;
their treatment processes are specifically calibrated for this application;
they are heavily automated, thus allowing the system to operate continuously;
they are equipped with automatic monitoring and control systems, thus allowing the process to be meticulously controlled and ensuring that the acceptability limits for the treated water are respected.
Riccoboni's mobile systems are designed to comply with the limitations set out in Italian Legislative Decree 152/2006, in Table 2 of Annex 5, Part 4 (concentration limits for groundwater contamination).
In its most comprehensive form, the treatment process provides for:
physico-chemical pre-treatment to precipitate the metals and separate the settled sludge;
a filtration station for the removal of suspended solids through filter pressing and for the catalytic oxidation of some metals (typically iron and manganese);
the stripping of volatile organic compounds;
a filtration station for polishing the effluent before discharge.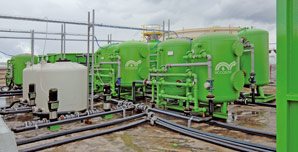 Overall, each system includes:
a dosing station consisting of reagent tanks (coagulants and flocculants) and their corresponding dosing pumps;
a reaction and settling station composed of a reaction tank divided into zones, the last of which is dedicated to the separation of the settled sludge; the tank also includes a system for the treatment of gaseous effluents by means of activated carbon cartridges;
a "primary" filter-pressing station consisting of a battery of filter presses with quartzite and/or pyrolusite filter media;
a stripping station for the removal of volatile organic compounds;
a "final" filter-pressing station for each treatment line composed of filter presses equipped with activated carbon filter media, working in parallel to polish the effluent before discharge;
an interim storage area for backwash water and effluent from sludge dewatering, used to hold the water from these processes as it waits to be returned to the top of the system;
on each treatment line, a final storage area for the water treated, used to hold the treated water with a view to its reuse in the filtration stations' backwashing systems;
a mechanical dewatering station for settled sludge, consisting of a station for conditioning of the settled sludge, a receiver tank to supply the filter-press, a filter-press with plates and a roll-off sludge box to catch and hold the dewatered sludge.